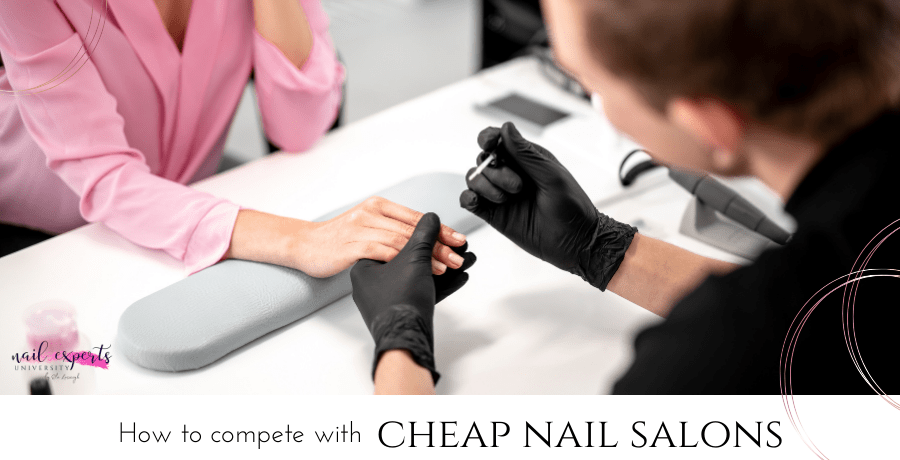 No matter the stage of your business, there will almost always be one thing that may keep you awake at night.
Your competition… especially when it's unhealthy.
The major question here is: How to compete with cheap nail salons, which, unfortunately, are growing like mushrooms after the rain. We see many salons near us discounting their prices. If that's just an occasional thing, e.g. Christmas offer, Mather's Day etc. then it's a part of the marketing strategy, and there's nothing wrong with that. However, if you're charging £40 and the shop next door charges £20 for "the same" service – how do you compete with that? Can you even compete with that..?
The answer is – YES!
BUT you have to create a strategy to make your competition irrelevant otherwise you'll end up with a non-profit charity (I have nothing against charities, to be clear). But we're talking business and profit here, so this type of work isn't accepted.
If you don't know how to create a strategic business and marketing plan I encourage you to check out the Nail Experts Club where you can learn all that and so much more!
Here are the 3 things that you can do right now.
#1. Stand out from the crowd – Be and do things differently
As simple as it sounds it may be quite tricky, especially if the shop next door is doing similar things, just at crazy low prices.
Your job will be to go out there and check your direct competition. What do they offer, how much exactly do they charge, what kind of brand of products are they using, what does the shop look like from the outside and inside, what is the theme design of the shop, what sort of experience do they provide for their customers, what does their website and social media look like, etc. 
You want to learn as much as possible about them NOT TO COPY what they do but to create your own strategy!
You have to think outside the box and do the opposite to everyone else to provide the highest and unique experience so that every customer feels like a VIP at your place and is happy to pay for the VIP treatment that you offer.
Remember – people may forget what you said, or did, but they will never forget how you made them feel.
So make sure to give them the time of their lives once they're there and even before they come to their appointment.
#2. Market yourself well

 
We're living in an amazing time when getting your name out there and growing your business using social media has never been easier. And it's especially true now because clients have curious eyes and are looking around trying to find someone new who will give them everything they want and more. 
If you're not a fan of Facebook, for example, remember that your clients are, so you have to be there for them and to expand your business through online marketing.
You don't have to be on every social platform, but choose the ones that you feel comfortable with and become amazing at it.
It's a fantastic place to share your awards, success stories, feedback from happy clients and their before and after photos, etc. Make sure to nurture your fans and customers with beautiful photos, valuable content and great offers too, from time to time following the 20/80 rule – 20% of your content is focused on selling, 80% on providing value.
Remember though, that having a fan page is a completely different story than using your fan page to build a successful business.
Social marketing is extremely important and valuable for every single business owner, so be sure to focus on learning and utilizing this field in the best possible way.
If you're a fan of more traditional ways of marketing the business, that's fine too; as long as you're doing something to help to get yourself in front of as many people as possible. However, social media is the fastest way.
# 3. Don't sell yourself cheap 
I've said it many times, and I'll say it again – know your numbers. Your business must be profitable to be successful therefore you can't charge what you think is right – YOU MUST KNOW and calculate your prices well.
There are many aspects to consider when setting up your prices (again inside the Nail Experts Club there's a whole training about it) but it must be done strategically in order to make it all worth awhile.
Selling yourself cheap may bring and attract some clients, but are they the type of clients you want..?
I don't think so unless your strategy is focused around the number of clients seen per day.
Trust me there are many people out there willing to pay more but with that comes the whole experience they want and must get, not just a nice set of nails that is easy to come by.  
Instead of lowering your prices – add value to your services, create a strategy for before-during-after the service, make them feel appreciated, taken care of and good about themselves. It's worth putting in that extra effort.  
That's the top 3 tips for you, that you can implement immediately. If you need more then check out the Club.
Love, Ela
Join the NAIL EXPERTS CLUB and grab BONUSES worth over £485!